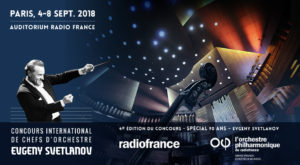 The Svetlanov Competition application period has now ended. We are grateful to all 350 conductors, hailing from 57 countries across all continents, who applied. The Artistic Commitee will now start selecting the 18 candidates who will take part in the Svetlanov Competition, a task made exceptionally difficult by the very high quality of the candidates.
The results of the selection will be announced in early June 2018.
For news and updates, follow us on our website, Facebook and Instagram.