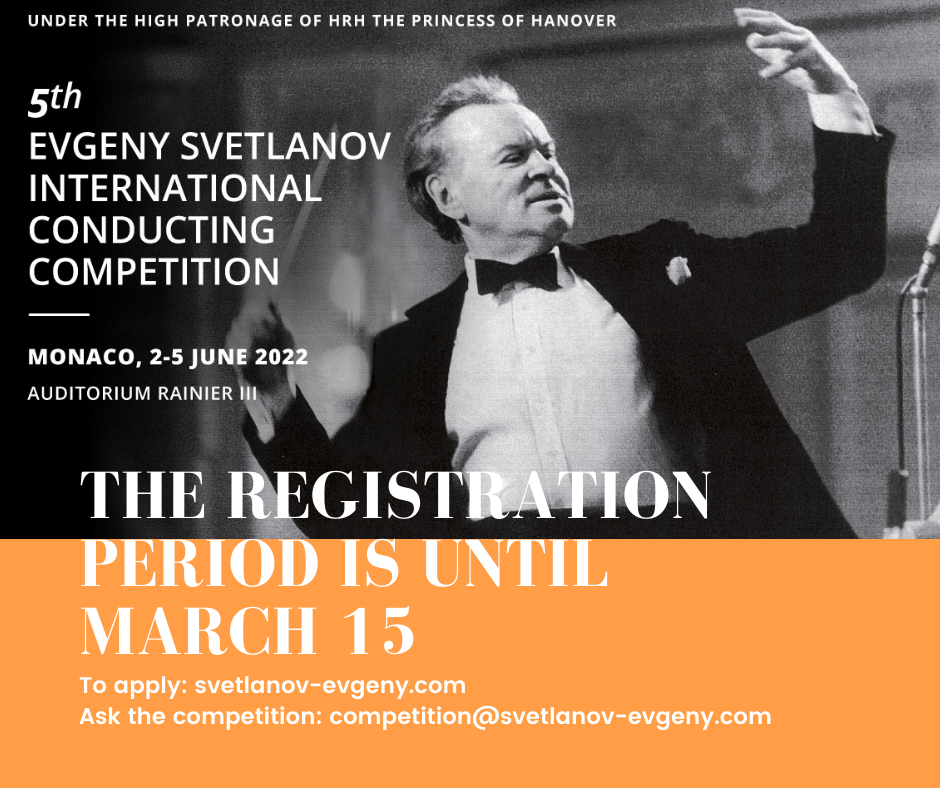 Only 5 days remain to apply at the 5th Evgeny Svetlanov International Conducting competition.
The number of applications and questions has increased significantly in recent days.
Question n°1: Can Ukrainians, Belorussians and Russians apply for the competition?
 Please note that the Evgeny Svetlanov International Conducting Competition is an independent organization. We are open to all countries and the selection is made according to the professional level, skills and aptitudes of each musician who applies. 
Therefore, the candidates from Ukraine, Belarus and Russia are welcome.
However, we advise the residents of these countries to check their possibility to come to Monaco. The candidates chosen for the first qualifying round should arrive at the Nice airport.
Question n°2: Should I send you a written biography or a CV with bullet points as it is mentioned in the rules of the competition?
The competition accepts the both, however we prefer a written biography.
Question n°3: Should I send a picture of me conducting or a portrait picture?
Please send us your portrait picture which that can be used for the communication. The mask on the face is not allowed.
Question 4:  I tried to apply the conducting competition, but the link didn't work.
Please try submitting a new application using the Chrome browser: https://form.123formbuilder.com/6052850//
If it doesn't work, please contact us: competition@svetlanov-evgeny.com
Question 5:  If I pass the First qualifying round, will I have to make a new contribution to participate in the Second Qualifying Round?
This contribution is a registration fee for processing your application. The payment must be made only once and is not refundable.
Question 6:  What COVID-19 restrictions are in place for travel to Monaco (e.g. vaccine status, testing, etc.)?
Please read Monaco Government's official travel information here: https://covid19.mc/en/travel/i-come-from-abroad/