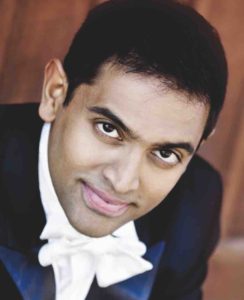 Harish Shankar took piano lessons from the age of six before being accepted into the class of noted pianist Professor Konstanze Eickhorst at the Conservatoire of Lübeck, Germany. Early studies with Eiji Oue led to an invitation to lead the orchestra of the El Sistema project in Peru. During his tenure with El Sistema, he conducted numerous projects with the aim to engage a growing classical music scene and to bring together children from all social backgrounds through music.
He subsequently completed his Master in Conducting at the Conservatoire of Weimar, Germany, under the tutelage of Professor Gunter Kahlert. Harish Shankar has received mentorship from Sir Mark Elder and took masterclasses with Paavo Järvi, Nicolás Pasquet, Leonid Grin and Mark Stringer.
He is Third Prize winner of the 2015 International Jorma Panula Conducting Competition and currently holds the position of First Kapellmeister at the Theater Vorpommern.
He has assisted a number of renowned conductors including Sir Andrew Davis, Vasily Petrenko, Eckehard Stier and Juanjo Mena, among others, with the Auckland Philharmonia Orchestra, the Royal Liverpool Philharmonic and the BBC Philharmonic Orchestra.
Highlights in the last season include his debuts with the City of Birmingham and Bournemouth Symphony Orchestras (United Kingdom).
Previous appearances include an acclaimed debut with The Hallé Orchestra in Manchester.
In his free time Harish Shankar serves as a pedagogue with the Friends of Waldorf Education, working with traumatised children.