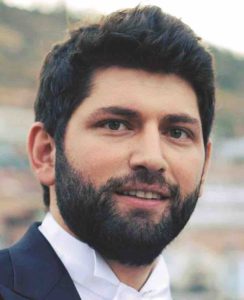 After graduating from the Tbilisi State Conservatoire, Mirian Khukhunaishvili was awarded a Master's degree in Orchestral Conducting at the Academy of Music in Krakow (Poland). He is currently completing his doctoral studies at the same Academy.
He has attended the masterclasses of famous conductors, including Gabriel Chmura, Alexander Liebreich, Tadeusz Strugala and Agnieszka Frankow-Zelazny. He was awarded a number of prestigious scholarships in Georgia.
Mirian is regularly invited to the Georgian national festivals.
Since 2012, he has been actively engaged in conducting various orchestras and choirs, including the Tbilisi Opera and Ballet State Theatre Orchestra and Choir, the Georgian National Philharmonic, the Tbilisi State Symphony Orchestra, the Georgian Sinfonietta Tbilisi State Chamber Orchestra, the Beethoven Academy Orchestra (Poland), the Rzeszow Philharmonic Orchestra (Poland), Georgian National Choir and others.
In 2016-2017 he was Chief Conductor of the Tbilisi State Conservatory Students Orchestra.
He has worked with world-renowned musicians, including Eliso Virsaladze, Paata Burchuladze, Eduard Brunner and Alexander Buzlov.