We are glad to present the laureates' latest news of the three last competitions.
Click on a laureate's name to know his/her biography and how to contact them.
LIO KUOKMAN, 2nd Prize & Audience Prize 2014 Competition
SAMUEL BURSTIN, 3d Prize 2014 Competition
MIHHAIL GERT, laureate 2014 Competition
KALLE KUUSAVA, laureate 2014 Competition
The Mariinsky Theatre invited Kalle Kuusava, the runner-up of the last year's Competition, to conduct a new production: "The Maid of Pskov" by Rimsky-Korsakov. The premiere will take place on July 5th, 2015 during the "Stars of the White Nights" Music Festival.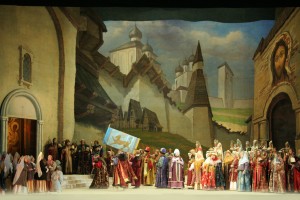 Ticket reservation: 
http://www.mariinsky.ru/en/playbill/playbill/2015/7/5/1_1900/
ANDRIS POGA, 1st Prize 2010 Competition
– On 3rd, 4th and 5th of June 2015 Andris Poga stands in for Maestro David Zinman to conduct the Tonhalle-Orchestra Zurich.
– Andris Poga, winner of the 2nd Svetlanov Competition, is back from a triumphal asian tour of November 2014 with Munich Philharmonic where he replaced the late Lorin Maazel and Valery Gergiev.
– Assistant to Paavo Jarvi at Orchestre de Paris since 2011/2012
Huge success with the Orchestra in two major concerts of 13/14 at the Salle Pleyel in September with Tchaikovsky's 5th Symphony and December with Shostakovich's 7th Symphony
– Assistant of Boston Symphony Orchestra since 2011/2012
– appointed Music Director of the Latvian National Orchestra since 1st November
– he has performed regularly with : NHK Symphony Orchestra, Moscow City Symphony – Russian Philharmonic, New Japan Philharmonic Orchestra, Israel Symphony Orchestra…
CHRISTOPHE ALSTAEDT, 2nd Prize 2010 Competition and Audience Prize
– Principal Conductor of Tiroler Symphonieorchester Innsbruck for 2011/2012 and 2012/2013
– Kapellmeister of Düsseldorf Deutsche Oper am Rhein
– he will make his debut with Oslo Philharmonic Orchestra, Stuttgarter Philharmoniker…
DANIEL COHEN, 3rd Prize 2010 Competition
– Music Director of the Jersey Chamber Orchestra
– Artistic Director of the Gropius Ensemble, Israël
– Dudamel Fellow at the Los Angeles Philharmonic for 2013/2014
– assistant of the West-Eastern Divan Orchestra
– the conductor has been selected for the two next seasons to participate at the Lucerne Festival Academy's Composer Project with Pierre Boulez
– he works regularly with the Tel Aviv Israeli Opera
ROBERT TREVINO, laureate 2010 Competition
– October 2014 was also a very busy "russian month" for Robert Trevino, laureate of the 2nd Svetlanov Competition, with many concerts in Moscow : he conducted the prestigious Bolchoi Orchestra in Verdi's Don Carlo, the National Philharmonic Orchestra of Russia in Berlioz Fantastique and Beethoven Triple Concerto with Vadim Repin, Nikolai Lugansky and Alexander Kniazev, and played at the Tchaikovsky Hall for the Galina Vishnevskaya Laureates Gala Concert.
– Associate Conductor of the Cincinnatti Symphony Orchestra since 2013/2014
– Principal Conductor of the Shippensburg Music Festival since 2012/2013
– unprecedented success at the Bolshoi Theatre, where he was initially engaged for a performance of Tosca in 2011. He made such an impression that the Bolshoi immediately invited him back for a residency consisting of two more seasons of Tosca as well as a new production of Don Carlo
– he will be on tour with the Orchestre Philharmonique de Monte Carlo at the Baku Rostropovich Festival (Azerbaidjan), and then in Florence
DOMINGO HINDOYAN, laureate 2010NCompetition
– 1st assistant to Daniel Barenboïm at Staatsoper Berlin since 2013
– selected in 2012 by Allianz International Conductors Academy to work with the London Philharmonic and Philharmonia Orchestra with Esa-Pekka Salonen and Sir Andrew Davis
– he works regularly with Graz Oper, Simon Bolivar Symphony Orchestra will make his debut with New Japan Philharmonic
BENJAMIN ELLIN, 2nd Prize 2007 Competition and Audience Prize
– Music Director of Thursford Productions
– Principal Conductor of Slaithwaite Philharmonic Orchestra
– Musical Director of Focus Opera
– President of London Pembroke Academy of Music
– he will soon conduct the London Philharmonic Orchestra and is successfully continuing his career as a composer
ROBERTO FORES VESES, 3rd Prize 2007 Competition
– Music Director of Orchestre d'Auvergne since 2012/2013
– very involved in the opera, he directed two co-productions of Rossini's Il viaggio a Reims and Donizetti's Don Pasquale in several French operas
– after his tremendous success at the Folle Journée festivals in Nantes and Japan in 2013, he has been reinvited in 2014
DEBORA WALDMAN, laureate 2007 Competition
– she will make her debut with Orchestre de Chambre de Lausanne, Orchestre de l'Opéra de Rouen, Academic Orchestra of Colon Theater in Buenos Aires, Orchestre Régional de Cannes and has been reinvited by Orchestre Lyrique de Région Avignon-Provence and Orchestre de Besançon
– she was also distinguished by ADAMI which nominated her "Talent Chef d'Orchestre"
ROSSEN GERGOV, laureate 2007 Competition
– the conductor performed recently with Wiener Symphoniker, Bamberger Symphoniker, BBC Symphony Orchestra, BBC Scottish Symphony Orchestra, Tokyo Metropolitan Orchestra…
– he conducts many operas included rarities like Viktor Ullmann's Der Kaiser von Atlantis with Klangforum Wien