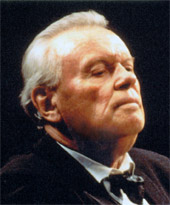 "Yes, I am so happy to hear musicians putting all their skill and soul into playing my music that I myself become a performer once again: I understand their problems and I seek solutions as a performer rather than as a composer who is unhappy because his work is not being played as he would have wished."
Le Monde de la Musique, France, 1996
Symphony orchestra
"My Country's fields" ("Rodnye polia"): cantata for baritone, mixed choir and symphony orchestra
"Daybreak in the field" ("Rassvet v polie"): symphonic painting
 
Three Russian songs for voice and orchestra:
1) "Macha is forbidden" ("Nie veliat Maché")
2) "Beautiful Berries" ("Urodilas' sil'na yagoda")
3) "Katienka is happy" ("Katien'ka vesiolaya")
"Festive Poem"
 
"Daugava": symphonic poem
 
"Siberian Fantasy" ("Sibirskaya fantasia") (composed jointly with I. Yakushenko)
 
Arbenine Monologue, "Sleepless Night", extract from "The Masked Ball" by Lermontov, for baritone and orchestra
 
Scherzo for piano and orchestra
 
Lyrical Waltz for strings
 
"Spanish Pictures" ("Kartiny Ispanii"), rhapsody No. 1
Chinese Dance
"Romantic Ballad" ("Romantitcheskaya ballada")
"Preludes", symphonic reflections
"For Peace" ("Za mir"): choreographic piece
Symphony in B minor
Poem for Violin and Orchestra (In memory of David Oistrakh)
"The Red Snowball Tree": symphonic poem (In memory of Vasili Shukshin)
Russian variations for harp and orchestra
Concert variations for a duet of guslis and traditional Russian instruments (Gorodovskaia version)
Rhapsody No. 2
Concerto for piano and orchestra
Scherzo
Theme music for the television programme "Vremia".
Piano
Two complex studies:
1) "Midday at the Marketplace" ("Poldien' na bazarnoï plochtchadi")
2) "Double notes".
 
Children's Album:
 1) Russian song
 2) Waltz
 3) Lullaby
 4) March
 
"Sketches" ("Nabroski"):
 1) "The Riddle" ("Zagadka")
 2) "The Smile" ("Ousmechka")
 3) "Twilight" (Soumerki)
 4) "At the Village Cemetery" ("Na dérévenskom kladbichtché")
 5) "Dance" ("Tanietz")
 
"Orient": rhapsody
 
24 preludes (in all tones)
 
"Living Room Extracts" ("Salonnyé otryvki")
 
Sonata No.1 (unfinished)
 
Sonata No.2
 
Sonata No.3
 
Sonatina No.1
 
Sonatina No.2
 
Sonatina No.3, "New Year" ("Novogodniaya")
 
Sonatina No.4, "Vetchornitsy"
 
Sonatina No.5
 
"Fairy Tale" ("Skazka") in B minor
Arrangements:
Dunaevski, "Volga-Volga"
 
Fradkin "Lyrics" ("Lyritcheskaya")
 
Khrennikov, "Svetlana"
 
Rachmaninov, "Vocalise".