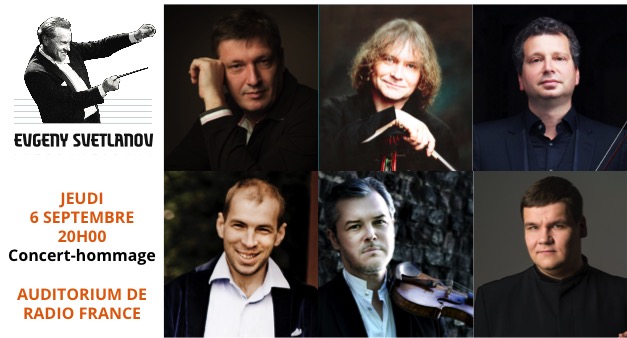 On September 6th, 2018, the musical world will celebrate the 90th anniversary of Maestro Evgeny Svetlanov.
Renowned Russian musicans such as Boris Berezovsky (piano), Vadim Repin (violin), Dmitri Makhtin (violin), Alexander Kniazev (cello) and Andrei Korobeinikov (piano) will get together on this occasion on stage of the Auditorium de Radio France in Paris.
You will enjoy works by Medtner, Rachmaninov, Tchaikovsky and a beautiful piece written by Evgeny Svetlanov himself: Poem for violin and orchestra in memory of David Oistrakh.
This unique event will culminate in Romeo & Juliet by Tchaikovsky, presented by the Orchestre Philharmonique de Radio France and conducted by Andris Poga (First Prize of the Svetlanov Competition 2010).
Don't miss this exceptional celebration and take advantage of a special offer!
You can obtain tickets for 30€/ticket in the best categories by typing code SVETLANOV here.*
Happy Birthday, Maestro!
More information about the concert on the website of Radio France.
* The offer is open until 03/09/2018 included, limited to 2 tickets/person and subject to ticket availability.