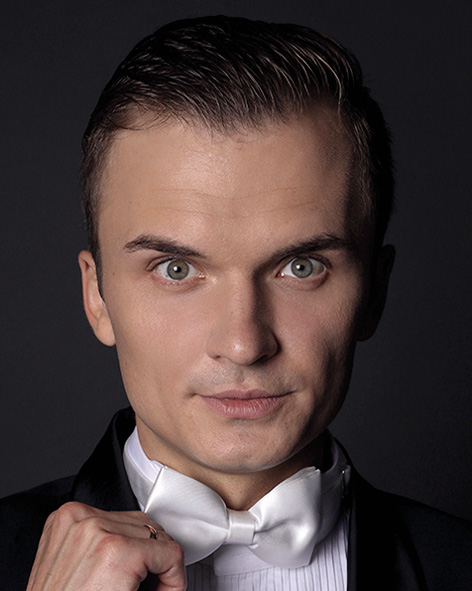 Evgenii graduated from the Kazan Zhuganov Conservatory in Russia in the class of Sergey Ferulev as a Symphony Orchestra Conductor (Ph.D.) and from the University of Montreal in Canada as a Symphony Orchestra Conductor (Ph.D.) under the tutelage of Jean-François Rivest and Paolo Bellomia. Last autumn he successfully defended his doctoral thesis in French. In June 2021, he received the Graduate Scholarship from the University of Montreal for Academic Excellence.
He studied and took part in masterclasses with such conductors as Neeme Järvi, Rafael Payare, Jukka-Pekka Saraste, Yuri Simonov, Adrian McDonnell, Günther Stegmüller, Jean- François Rivest, Paolo Bellomia, and others.
Evgenii made his debut with the Tatarstan National Symphony Orchestra, thereupon, invitations followed, and Evgenii conducted several concert programs during the 2016-2017 season, working closely with the Principal Conductor Alexander Sladkovsky.
From 2016 to 2019 Evgenii was the Principal Conductor of the Youth Symphony Orchestra of the Regional Charitable Foundation – Sforzando (Russia). During these years he has significantly increased the professionalism and overall status of the orchestra and established a great reputation in the musical and social life of the Republic of Tatarstan. Only during the last year of Evgenii's leadership with the orchestra, more than 80 concerts were performed, including a guest performance at Tchaikovsky Concert Hall in Moscow.
In February 2022, he became assistant conductor of Boris Brott and the Orchestre Classique de Montréal.
Evgenii Sakmarov is listed in the Book III of Philanthropists of the Republican Foundation for Restoration of Monuments of History and Culture of the Republic of Tatarstan. Evgenii was awarded the "Culture and Arts" grant by TATNEFT.