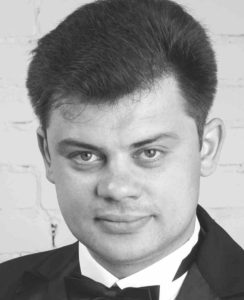 Dmitry Filatov graduated from the Gnessin Russian Academy of Music in the Flute class, Orchestral Conducting and creative postgraduate studies in Opera – Symphonic Conducting (in the class of Professor Skripka).
He participated in masterclasses with Vladimir Fedoseyev, Gennady Rozhdestvensky, Yuri Simonov and Vladimir Ponkin.
As the winner of the "Youth of Belgorod region" competition, he has conducted the Belgorod State Philharmonic Orchestra since 2003. Since 2009, he has held the position of Artistic Director of the Belgorod State Institute of Culture and Arts Symphony Orchestra.
He has participated in the Rachmaninov Music Festival (Tambov), the Festival of Choral Music (Belgorod) and the Festival of World Symphony Orchestras (Moscow). He was a guest conductor of the "Music Panorama of Russia" contemporary music festival (Moscow) and the Festival of Contemporary Music (Beijing, China). Dmitry also participated in the "Stars of the 21st Century" concert series (Moscow State Philharmonic). He is a regular Guest Conductor of the Tianjin Symphony Orchestra (China). In 2016 he toured with the Belgorod State Philharmonic Orchestra in Spain and Portugal.
He has performed with: Lukas Geniušas, Vadim Rudenko, Nikita Borisoglebsky, Graff Murzha, Alexandre Buzlov and Alexander Ramm.
In 2013 he was awarded the Special Medal of the Russian Orthodox Church of St. Joasaph.