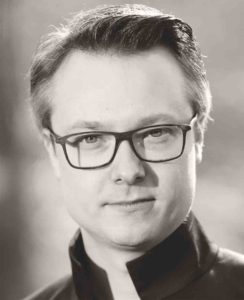 Joonas Pitkänen graduated from the Würzburg University of Music (Germany) where he studied under Ari Rasilainen.
He attended masterclasses with Nicolás Pasquet, Mark Stringer and Ulrich Windfuhr. He also worked as Assistant for maestro Rasilainen with the WDR
Funkhausorchester and the Nuremberg Philharmonic State Orchestra in Germany.
He is based in Basel, Switzerland, where he is Artistic Director of the Finnish concert series Feeling blue & white, which he co-founded in 2014.
Joonas was appointed as Principal Conductor of the Freiburg Akademisches Orchester in Germany for the season 2017-2018.
In 2016 he made his debut as an opera conductor in Busoni's Arlecchino with the Würzburg Opera Studio (Germany). The same year he conducted his Diploma Concert with the State Philharmonic of Rhineland-Palatinate in Germany and made his debut in Switzerland with the Biel Solothurn Symphony Orchestra. He was also selected at the Gstaad Conducting Academy where he studied under Neeme Järvi and Johannes Schlaefli, and performed with the Gstaad Festival Orchestra at the Menuhin Festival.
His future engagements include a tour with the Basel Festival Orchestra (Suisse), a debut with the Südwestdeutsche Philharmonie Konstanz (Germany) and guest conducting of the Slovak Chamber Orchestra.