"Svetlanov – Univers!" Festival will be held from 10 to 11 November 2018 at the Tchaikovsky Conservatory in Moscow.
For the first time, 13 concerts will be performed in all the halls of the Conservatory in just two days.
The first Festival will be a tribute to Evgeny Svetlanov, one of the greatest Russian musicians of the 20th century, on his 90th anniversary.
The goal of the Festival is to create a «crazy », creative , musical atmosphere at the Moscow Conservatory and throughout the city.
Programme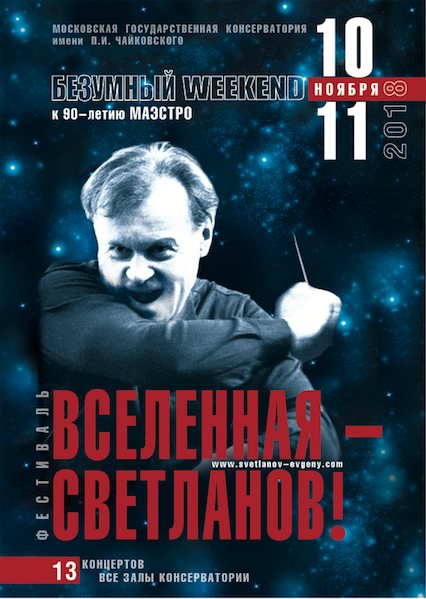 The "Crazy Weekend" subtitle of the Festival reflects the multifaceted nature of this event, with 13 classical music concerts combining well known works of which the Maestro was particularly fond, jazz, his own works and the premiere of a piece dedicated to him : "Cicrles of memory" by a French composer René Koering. The Festival will also include master classes and will organise an exhibition tribute to Evgeny Svetlanov from the Moscow Museum collection, video projections of documentary films and performances by Maestro Svetlanov and meetings in a dedicated "Memory Corner" area.
Artists paying tribute to Evgeny Svetlanov include the Evgeny Svetlanov National Symphony State Orchestra of Russia, the Moscow Conservatory orchestras, the Alexander Yourlov Russian State Capella, Alexandre Vedernikov, Vadim Repin, Alexander Kniazev, Boris Berezovsky, Dmitri Makhtin, Andrei Korobeinikov, Alexandre Rudin, Yana Ivanilova, Ekaterina Morozova, Vsevolod Grivnov, Petr Migunov, Yaron Herman (jazz), the Borodin Quartet, together with Lio Kuokman, Robert Trevino, Roberto Fores Veses, Kalle Kuusava ( conductors and prizewinners from the Svetlanov Competition in previous years who have since won international acclaim) and many others.
Organisers
The Festival organisers are as the Evgeny Svetlanov International Conducting Competition with support from the Moscow Conservatory, the Trans-Siberian Art Festival, the Moscow Museum, Productions Internationales Albert Sarfati, "Olga Aleksandrova Management" the artists' agency, Radio France, the Evgeny Svetlanov Foundation and medici.tv who will provide live broadcasts of the Festival concerts.
Festival Founder and Artistic Director: Mrs. Marina Bower
Executive producer of the Festival: « Turne » (public relations and concert agency), Moscow, represented by its CEO Mrs. Galina Goluboa.
You can follow the latest news about the Festival on our website, Instagram and Facebook.
All the information about the Festival and ticket purchases is on the website https://svetlanovfest.ru