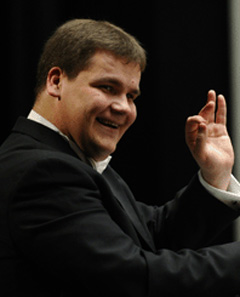 Andris Poga graduated in conducting from the Jazeps Vitols Latvian Academy of Music. He also studied philosophy at the University of Latvia and from 2004 to 2005 was taught conducting by Uros Lajovic at the Vienna University of Music and Performing Arts. While still a student, he took part in the master classes of conductors including Mariss Jansons, Seiji Ozawa and Leif Segerstam.
Since 2007, when he received the Latvia Great Music Award, Andris Poga maintains close relationships with the orchestras of his country : Latvian National Symphony Orchestra, Latvian National Opera and Riga Professional Symphonic Band which appointed him music director and chief conductor from 2007 to 2010.
In May 2010, he is also awarded with the First Prize of the Evgeny Svetlanov International Conducting Competition in Montpellier. After this success, Andris Poga is nominated in 2011 assistant conductor of Paavo Järvi at the Orchestre de Paris for three years and, in 2012, assistant conductor of the Boston Symphony Orchestra (BSO concert series and the prestigious Tanglewood Festival).
After the first successful collaborations, Andris Poga conducted many prestigious orchestras such as Boston Symphony Orchestra, Orchestre de Paris, NHK Symphony Orchestra, New Japan Philharmonic, Israel Symphony Orchestra, Moscow City Symphony – Russian Philharmonic…
Among his upcoming projects, we note : Gewandhaus Leipzig, Munich Philharmonic, Orchestre de Paris, Boston Symphony Orchestra, Orchestre Philharmonique de St Petersbourg, , New Japan Philharmonic Orchestra (Suntory Hall), Orchestre Nationald e France (Auditorium de Radio France), Orchestre de chambre de Lausanne, Hiroshima Symphony Orchestra…
In September and December 2013, Andris Poga replacec at the last minute Maestro George Prêtre and Mikko Franck at Salle Pleyel with Orchestre de Paris in works of Poulenc, Tchaikovsky's 5th Symphony and Shostakovich 7th Symphony. Success was tremendous. In October 2014, he replacec Lorin Maazel and Valery Gergiev in a triumphal asian tour dedicated to Strauss.
Since the 1st November 2013, Andris Poga is the Musical director of the Latvian National Symphony Orchestra for 3 years.
Facebook Page
Contact: Productions Internationales Albert Sarfati