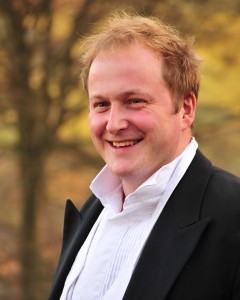 Award winning and critically acclaimed British conductor and composer Benjamin Ellin is currently Music Director of Thursford Productions, Principal Conductor of the Slaithwaite Philharmonic Orchestra, Music Director of Focus Opera and  President of Pembroke Academy of Music, London.
In recent seasons Benjamin has performed with the English Chamber Orchestra, BBC Scottish Symphony Orchestra, BBC National Orchestra of Wales, BBC Philharmonic Orchestra, Orchestre National de Lille, Shanghai Opera House Orchestra, Gunma Symphony Orchestra (Japan), St Petersburg Symphony, Orchestre National de Montpellier, Teatro Massimo Palermo, Orchestra del Teatro Regio Turin, Russian State Symphony Orchestra, New Russian Symphony Orchestra, Orchestre National de Lyon, Orchestre Chambre de Catalogne and the Luxembourg Philharmonic amongst others. Immediate plans include return visits to orchestras in Japan, France, Russia, Canada and USA, combined with his commitments across the UK.
A multiple award winner, Benjamin was awarded 1st Prize and the Public Prize from the inaugural Evgeny Svetlanov International Conducting Competition in 2007. In September 2009 Benjamin was awarded the Barlow Endowment Prize for composition, becoming only the second British composer in twenty-five years to be awarded the prize. His subsequent commission for a trombone concerto was premiered by the New York Philharmonic's Principal trombonist, Joseph Alessi, in April 2012. Benjamin's debut composition CD, Three States at Play, was released in Spring 2012; "…Ellin's is a musical voice well worth getting acquainted with…" (Richard Whitehouse, Gramophone Magazine, October 2012.)
Benjamin has received commissions from organisations including the Hallé Orchestra, Orchestre Chambre D'Auvergne (France), Shanghai Opera, Trio Chausson, Concordia Foundation, Maison de la Culture in Amiens and the Fort Macleod International Festival, Canada as well as soloists such as Rivka Golani, Pascal Contet, Robert Cohen, Andrei Korobeinikov, Veronika Ilinskaya and Ilona Domnich. His works have been performed at festivals and venues across Russia, France, Norway, Canada, China and throughout the UK. In 2010 Benjamin was a featured artist at the Imaginez Maintenant Festival in Amiens. Commissions now in progress include a new symphonic work for the Orchestre de Picardie, a major collaborative work with the Blackfoot people of Alberta, Canada and his first full length opera Welcome to Deen. In 2007 Benjamin became one of the first classical composers to sign a deal with the Prince's Trust Music Publishing, and also featured in BBC Music Magazine in their Rising Stars feature.
Alongside his success with the 2009 Barlow Foundation, Benjamin was also presented with the highest honour of an eagle feather from the Siksika Chieftains in Canada as a reflection of gratitude for his composition 'Siksika', commissioned by Rivka Golani in 2010. In 2011 Benjamin was invited to attend a Royal reception at Buckingham Palace by Her Majesty the Queen and Prince Philip for young people working in the performing arts.
A committed, active and innovative figure in musical collaboration and access for all, Benjamin was Director of Music at the Pembroke Academy in South London from 2006-2010. In 2010 he was made President of the Academy as a reflection of his achievements over his tenure as Director. Benjamin's ongoing relationship with London's Southbank Centre has resulted in major collaborations with Dan Zanes. Benjamin also took a major role within the 2011 Festival of Britain as conductor, composer and arranger.
As a collaborator, Benjamin has enjoyed working closely with musicians from across the Middle East, Asia, North America and Russia, and has worked in dance, theatre and across a range of multi-media. In 2008 he began his close relationship with Ney Soloist Louai Alhenawi. Their debut London concert in 2008 featured Ellin's Concerto for Ney and Orchestra Tafahum, and a debut album of the same name is planned for 2013.
Website: http://www.benjaminellin.com
Contact: Productions Internationales Albert Sarfati