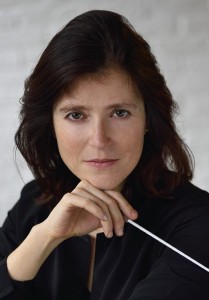 A native of São Paulo, Brazil, Debora Waldman accompanied her family to Israel in a Kibbutz where she lived until the age of 14.
She then pursued her musical studies in Buenos Aires, in the Universidad Católica de Argentina. She is the only student in the history of this university that has been awarded two golden medals, both in orchestra conducting and composition.
In 2002, she perfected her formation in Paris (where she lives) with Janos Fürst, and with F.X. Roth and M. Levinas in the Conservatoire National Supérieur de Musique (CNSM).
Hailed as an energetic and profound young conductor, Debora Waldman was discovered by the Orchestre National de France and Maestro Kurt Masur in 2006. Subsequently, she has collaborated on several projects with famous Maestros such as Kurt Masur, Sir Colin Davis and Krzystof Penderecki and conducted the Orchestre National de France for a Villa-Lobos concert.
In 2007 she became one of the winners of the first Evgeny Svetlanov International Conducting Competition in Luxembщurg.
Guest appearances include concerts with Orchestre de Chambre de Lausanne, Orchestre de l'Opéra de Rouen, Orchestre National de Lyon, Orchestre Philharmonique de Monte-Carlo, Orquesta Academica del Teatro Colon in Buenos Aires, Thessaloniki State Orchestra, Orchestre de Besançon, Orchestre Lyrique de Région Avignon-Provence, Orchestre de l'Opéra de Toulon…
For the « Opera en plein air » french tour, she conducted Madama Butterfly (2011)  Aïda (2012) and The Magic Flute (2013) and Don Giovanni (2014).
Recently, she successfully conducted the Orchestre de Chambre de Paris at the New Philharmonie de Paris.
Forthcoming engagements include an Opera in Rouen and debuts with Orchestre Lamoureux at Theatre des Champs-Elysées.
She was named Revelation of ADAMI (Administration des Droits des Artistes et Musiciens Interprètes) and laureate of the foundation « Simone et Cino del Duca », under the auspices of the french « Beaux-Arts Academy ».
Website : www.deborawaldman.com
Contact : Agence artistique Clarisse de Monredon