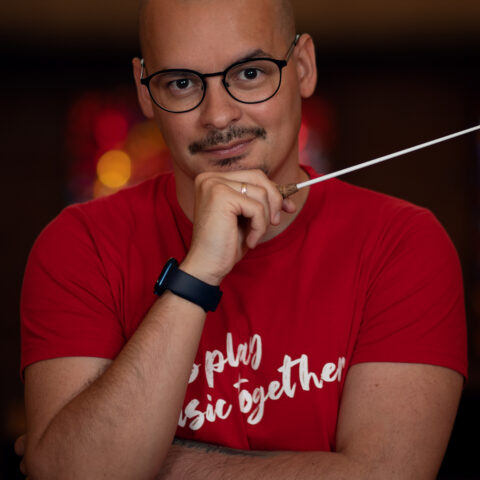 The Venezuelan conductor Ron Davis Alvarez is a teacher for children and youth orchestras from El Sistema, a music and social project created by Maestro José António Abreu. Ron conducts a professional orchestra for projects with community and education development. For many years he worked to connect the artistic world of professional orchestras to the community and refugee camps.
In 2020, Ron became the conductor of the Sportlove Orchestra at the Gothenburg Symphony Orchestra in Sweden. He is the conductor of the El Sistema Sweden National Youth Orchestra. Every year he conducts the concert series "Side by Side" with the Göteborgs Symfoniker and 2500 children. He is currently teacher of a community school orchestra in Gothenburg, leader of the Dream Orchestra and mentor of projects in Jerusalem, Lebanon and Greenland.
The Dream Orchestra was founded by Ron in 2016, in Gothenburg. It was formed with children and teenagers refugees from Syria, Afghanistan, Iraq, Iran, Palestine, Kurdistan, Albania, Angola, Eritrea and Somalia. This project won the "Okende" refugees world prize in 2021.
He founded in 2011 an orchestra located 700 kilometers from the Arctic Circle at the Uummannaq Children's House, in Green- land.
In 2017, he was selected as one of the world's 50 best teachers by the Varkey Foun- dation, as part of the Global Teacher Prize. The Royal Swedish Academy of Music awarded Ron Davis Alvarez with the 2020 Pedagogy Prize for his "unique musical conducting pedagogical competence".
In 2021, he received the Frihetstonen Award from the Torgny Segerstedts Minne Foun- dation for teaching "hundreds of children and young people that music can be a way to make your voice heard and to find brotherhood in the world."