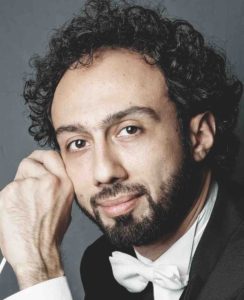 Fuad Ibrahimov began his music studies at the Baku Music Academy at the age of 15. He joined the Azerbaijan National Symphony Orchestra as a viola player where he remained until 2002.
In 2006, he was admitted to the conducting class of Professor Michael Luig at Cologne Academy of Music. In 2011, he graduated from the Academy with distinction.
In 2008, he appointed Chief Conductor of the Sinfonietta Student Symphony Orchestra in Cologne.
In 2010, Fuad was awarded the Special Prize by the DAAD (German Academic Exchange Service for Artists), given to especially talented foreign students. He also was awarded a scholarship by the Azerbaijan Culture Friends Foundation, founded by the First Lady of Azerbaijan Mehriban Aliyeva and has held a President's scholarship since 2013.
In 2011 he was invited by Fabio Luisi to perform at the Pacific Music Festival in Japan. He made his debut in 2012 with the Gürzenich Orchestra at the Cologne Opera where he is currently a Guest Conductor. He has performed with the Royal Philharmonic Orchestra (London, England), the MDR Leipzig Radio Symphony Orchestra, the Göttingen and Nürnberg symphony orchestras, the Staatskapelle Berlin and the Sächsische Staatskapelle Dresden (Germany), the Mulhouse Symphony Orchestra (France), the North Czech Philarmonic and the Vienna Chamber Orchestra (Austria).
Since 2014 he has been Conductor of the Azerbaijan National Symphony Orchestra, Chief Conductor of the Munich Neue Philharmonie Symphony Orchestra and the Baku Chamber Orchestra.
In March 2017 Fuad was awarded the Order of Merit of the President of Azerbaijan for his commitment to culture.