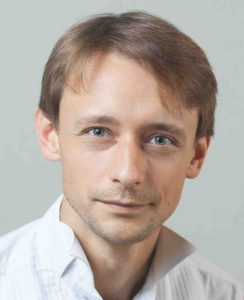 Ivan Cherednichenko graduated in Opera and Symphonic Conducting from the Tchaikovsky National Music Academy of Ukraine in 2014.
In 2010, he won First Prize at the Ukrainian Young Conductors Competition "Muzichna Tavrija". Semi-finalist in the Lutoslawski International Contest for Young Conductors in Poland in 2011, he then won both First Prize and Audience Prize at the International Conducting Competition in Chisinau in 2013 (Moldova), and Second Prize at the Turchak International Conducting Competition in Kiev in 2017.
In 2012, he started working with the Dnipro Philharmonic Orchestra. In 2016, he was appointed Permanent Сonductor at the Kiev State Municipal Opera and Ballet Theatre for Children and Youth.
Ivan made his debut as an opera conductor at the Opera Studio of the Tchaikovsky National Music Academy of Ukraine (Verdi's La Traviata, Tchaikovsky's Eugene Onegin, Pergolesi's La Serva Padrona, Mozart's Cosi Fan Tutte et Le Nozze di Figaro).
In 2014, he performed with the National Symphony Orchestra of Ukraine. In 2015, he made his debut at the Dnipro Opera House with Verdi's Aida.
In 2016, Ivan was invited to take part in the Bayerische Staatsoper Opera Festival as Musical Assistant and Co-conductor. He worked on the production of the world premiere of Mauerschau, an opera by H. Berheide. He was an assistant and second conductor in the memorial concert dedicated to the 75th anniversary of Babi Yar at the Kiev Opera House with the Hamburg Symphony Orchestra and the Ukrainian Dumka Choir.