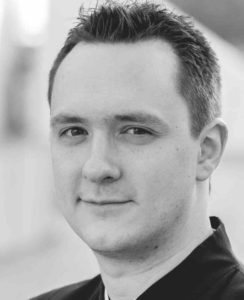 Jordan Gudefin has won his first prizes for percussion instruments, chamber music and won First Prize at the 2010 Cannes International Percussion Instruments Competition. Then he was admitted to the conducting class of Alain Altinoglu at the Conservatoire de Paris and won his first conducting prize at a concert at the Cité de la musique in Paris.
He took part in the 2016 Donatella Flick Conducting Competition and in the 2017 Besançon International Young Conductors Competition where he reached out the finals. He has also conducted the Orchestre Philharmonique de Radio France, the Orchestre de Paris, the Ensemble Intercontemporain and the Orchestre National des Pays de la Loire.
In 2015 he was appointed Assistant Conductor of the Orchestre Français de Jeunes, working under David Zinman, Denis Russell Davies and since 2016 under Fabien Gabel.
In 2016-2017, he was Assistant Conductor at the Opéra Comique for the production of Timbre d'Argent by Saint-Saëns with the "Les Siècles" orchestra under François-Xavier Roth. In 2017-2018, Jordan worked with François-Xavier Roth and the Gürzenich Orchestra Cologne as Assistant Conductor for the production of Die Soldaten by Zimmermann at the Cologne Opera. He has also been appointed Music Director of the Orchestre Philharmonique des Grandes Écoles in Paris.
In 2018-2019 he will make his debut with the Mulhouse Symphony Orchestra and the Orchestre Victor Hugo Franche-Comté.
Jordan Gudefin composes for various musical ensembles. His works have been performed all over the world and he has worked with Branford Marsalis, Claude Delangle, Sébastien Giot and Fredric Mellardi.